Outdoor Fireplace Of Your Choice
All County Fully Assembled Outdoor Fireplace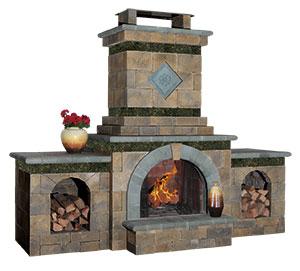 After your concrete pad has been poured, simply place the bottom section in position, stack the top section onto the bottom, slip in the hearth (the piece that extends from the floor of the firebox), and you are ready to sit back and enjoy a crackling, wood fire right on your patio. Made of All County Olde English Wall™ with a All County Bullnose hearth, mantle and chimney top, the Fully Assembled 3-Pc. Outdoor Fireplace is delivered to your home in a choice of two popular color combinations. It comes complete with a stainless steel chimney liner, termination cap, spark screen, even a log grate, and features an array of other eye-pleasing characteristics. You have an option to add one or two firewood box extensions, also fully assembled.
Recessed Cast Stone Diamond-Shaped, Decorative Medallion
Banded Granite Tiles On 4 Sides
Gracefully Arched Hearth Opening
Genuine Masonry Firebrick Installed Over A Cast Refractory Cement Frame
Shown: Optional Firewood Box Extensions
Fireplace Dimensions
(With 3 Pcs. Put Together):59 7/8" long, 55 7/8" deep and 101 1/2" high. Fireplace weight: 7,507 lbs.
Woodbox Dimensions
(Each Extension, Right & Left Side, Sold Separately):34" long, 36" deep and 38 1/2" high. Firewood Box weight: 1,950 lbs. each.
Simple instructions in English and Spanish are included.
This Outdoor Fireplace Can Be Put Together In Less Than 1 Hour!
Two wallstones easily slide out from each section during the process to establish open pockets for a forklift. The wallstones can either be glued back into position or replaced without adhesive, should you want to relocate the fireplace in the future.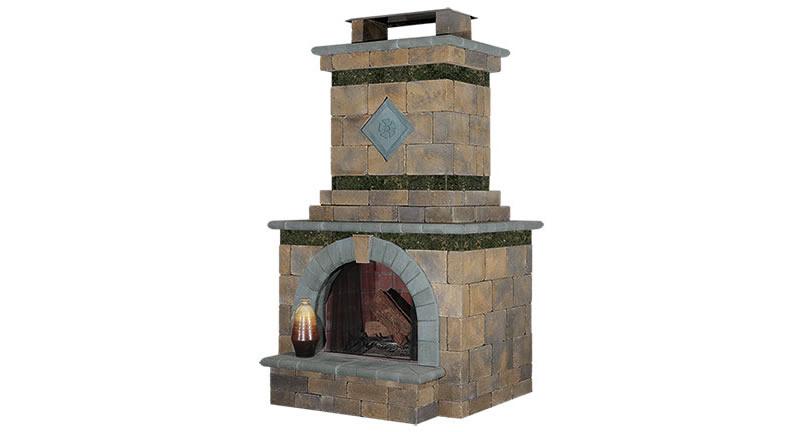 Color Combination Option Shown:
Olde English Wall Toffee/Onyx; Trim On Mantle And On Arched Opening Of Firebox All County Bullnose Bluestone Blend; Genuine Granite Tiles Black Uba Tuba; Bluestone Diamond-Shaped, Cast Stone MedallionChoice Of Designer-Inspired Color Combinations!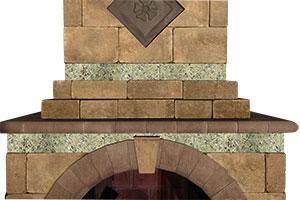 .Alternative Color Combination Option:
Sahara/Chestnut Olde English Wall
Chestnut All County Bullnose Trim
Venetian Gold Granite Tiles
Chestnut Diamond-Shaped, Cast Stone Medallion